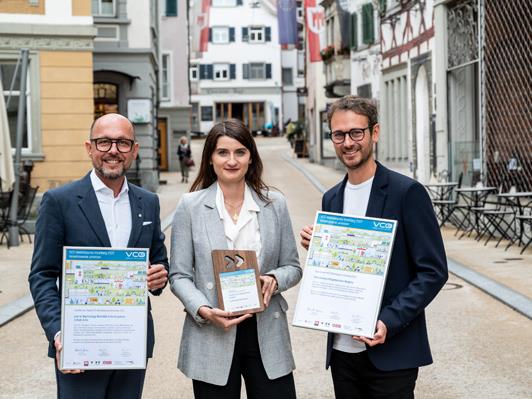 (from left) Mayor Michael Ritsch, Franziska Studer from the Mobility Service and Urban Development department and Provincial Councilor Daniel Zadra
©VLK/Serra

Bregenz (BRK) – On Friday, September 16, 2022, the expansion of the Bregenz pedestrian zone received the VCÖ Mobility Prize Vorarlberg 2022 jointly from the VCÖ, the state of Vorarlberg and the ÖBB in the Vorarlberger Landhaus.
With this project, the state capital took first place ahead of the high-speed cycle connection between Am Kumma and Vorderland and the school mobility management of the plan-b communities with the participation of the state capital.
The motto of this year's VCÖ Mobility Award was "Implementing the traffic turnaround". A traffic shift towards more public transport, cycling or simply walking not only leads to the desired climate goal more quickly, but also reduces the costs of mobility. Traffic calming in public spaces is therefore of great importance, especially in central and densely built-up areas where people live, work and shop in a small space.
With this goal, the car-free city center became the largest pedestrian zone in Vorarlberg on July 1, 2022. The traffic calming includes in particular the introduction of pedestrian zones in Rathausstrasse, Anton-Schneider-Strasse, Kirchstrasse, Römerstrasse and Maurachgasse and meeting zones in Bergmannstrasse, Anton-Schneider-Strasse, Nepomukgasse, Kornmarktstrasse, Jahnstrasse and Neugasse. In addition, existing pedestrian and meeting zones (e.g. in Schulgasse) will be expanded locally. The implementation also takes into account the improvement of accessibility and the establishment of orientation and signage systems.
Mayor Michael Ritsch is pleased that the project received the most points overall from the expert jury: "This award is a great honor and at the same time a well-founded confirmation of our work. The parliamentary groups that have joined our vision in the city council and have spoken out in full in favor of the pedestrian zone have shown far-sightedness. This price confirms this once more. My thanks go to all employees of the state capital of Bregenz, who were involved in this success story from planning to implementation and who did not let some resistance deter them from the right path. You are doing great work for the people of Bregenz."
City councilor Robert Pockenauer is also pleased about the mobility award and emphasizes the importance of the decision: "This award confirms the path we have taken and shows that courage proves itself in politics. With the structural changes that are currently being carried out in Rathausstrasse and Anton-Schneider-Strasse, I am certain that the pedestrian zone will find even more acceptance among the population next year."
A project by the state capital together with the state, the education department and the seven plan-b municipalities, which focuses on safe routes to school with fewer cars in front of the teaching facilities, was also recognized as exemplary.