Premium manufacturers are competing for ideas to give character and new interior atmospheres to their electrified vehicles. With the BMW iX1, the Bavarian manufacturer wants to open the door to a new kind of driving experience.
The major car manufacturers, within the current development dynamics of the sector, now have a lot to do to build new driving pleasures from scratch. With the giant steps taken on a strictly technical level, it is clear that one ingredient is missing in this automobile of the future, namely emotion.
Electrification is underway, in the process of massification, despite doubts and hesitations in the face of the technical and practical challenge it presents. Despite everything, the major manufacturers have, over the past fifteen years, redoubled their efforts to design reliable electric cars that can be used on a daily basis. But what about driving experience and pleasure? Certainly the mass arrival of cars like the Renault Zoé have changed the situation. Instant pleasure for the couple, characteristic sound signature now incorporated into the urban landscape, refined aesthetics inside and out… The first mass-produced electric Renault changed the situation.
Tesla brought the extra touch, with a substantial technological background. Impressive power level, autonomy capabilities, geekies of all kinds, updating, marketing and community driving experience, the American has reigned supreme for more than a decade on innovation at this level.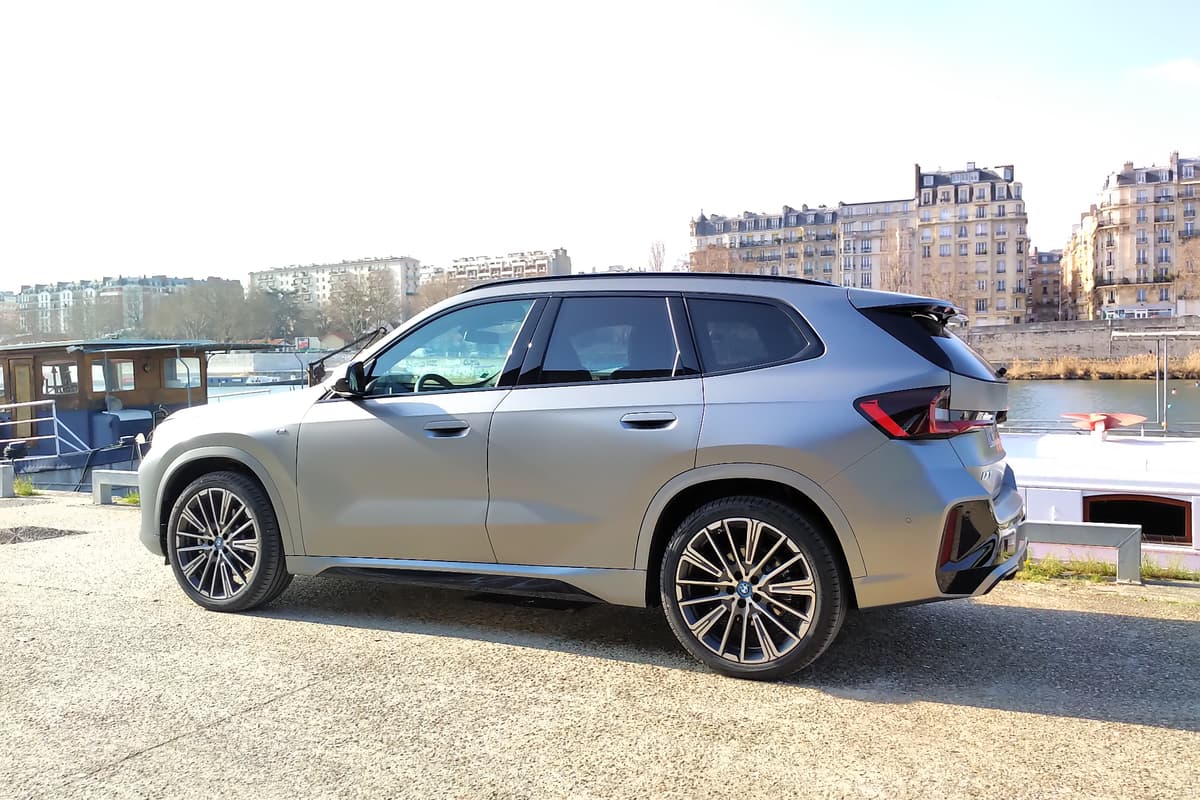 The driving experience challenge
Now is the time for the replica, and specifically in the high-end area. And the challenge is daunting for cars which in fact tend to be standardized a lot. In view of the engines available and the dedicated technologies, especially if we look at the very buoyant segment of medium SUVs, we end up with somewhat similar machines and which it is difficult to really distinguish in terms of driving experience.
Apart from Mazda with its MX-30 with a very specific identity and real work on the interior equipment (and its astonishing flying saucer noise), Mercedes which is working on the interior mood lighting (with more or less success) and Audi, which is striving to recreate an assertive sporting atmosphere from scratch, we feel that premium manufacturers now need to "sell something else" to motorists in their electric cars.
And that's where BMW comes in, with a very special approach. Take the iX1, which we recently tried. First-rate performance, relative sobriety in terms of consumption, recharge time, practicality, dynamism, it's all there. But BMW's secret weapon is elsewhere.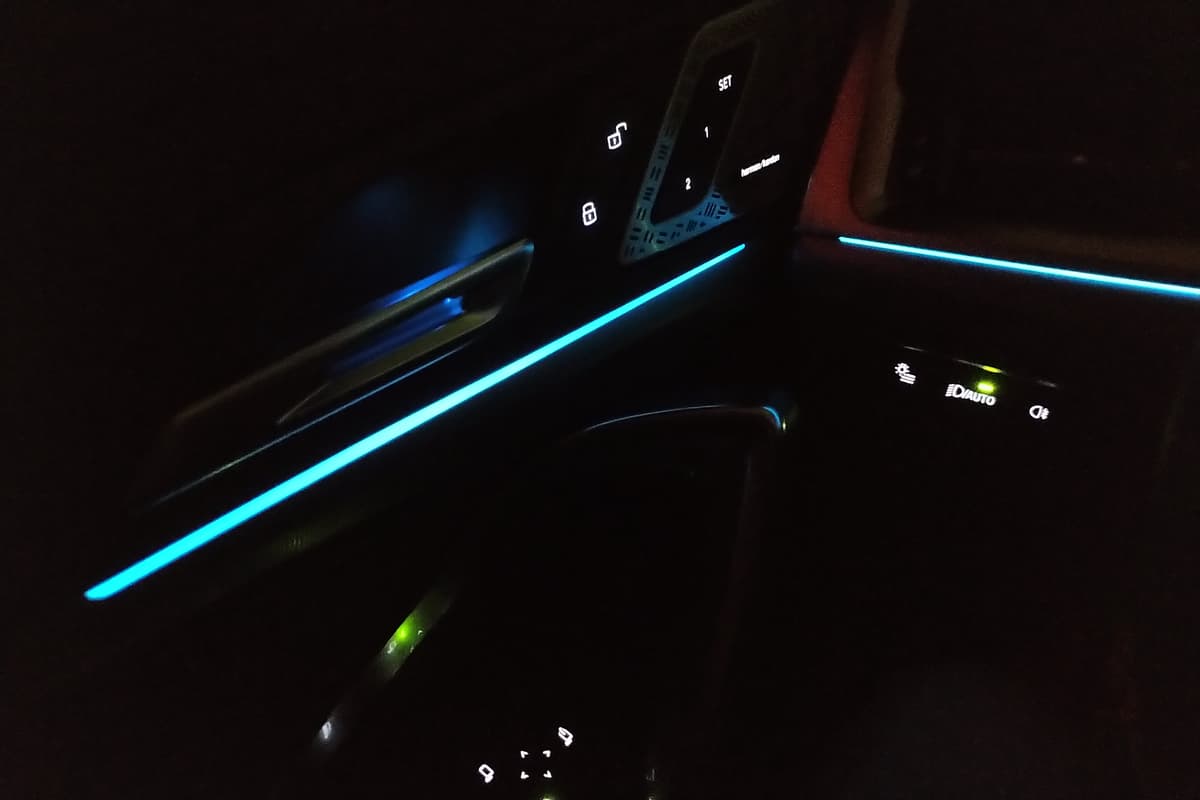 Already a very unusual interior and exterior sound signature, almost no longer evoking the automobile but more a kind of orchestral movement, imagined and designed by Hans Zimmer, leading composer of successful film music (The Lion King or The Red line, among others). Evolving according to accelerations, braking, depending on the intensity of the movement, this sound loop in itself immerses you in an atmosphere that is both high-tech and particularly successful musical. And it varies according to the driving mode chosen, from the softest to the sportiest, through a first-rate Harman-Kardon sound system.
A whole range of atmospheres to choose from
And this sound button is only one of the parameters of the various mood modes available, which can be chosen and configured at will, via the central touch screen or even a special physical wheel near the gear lever.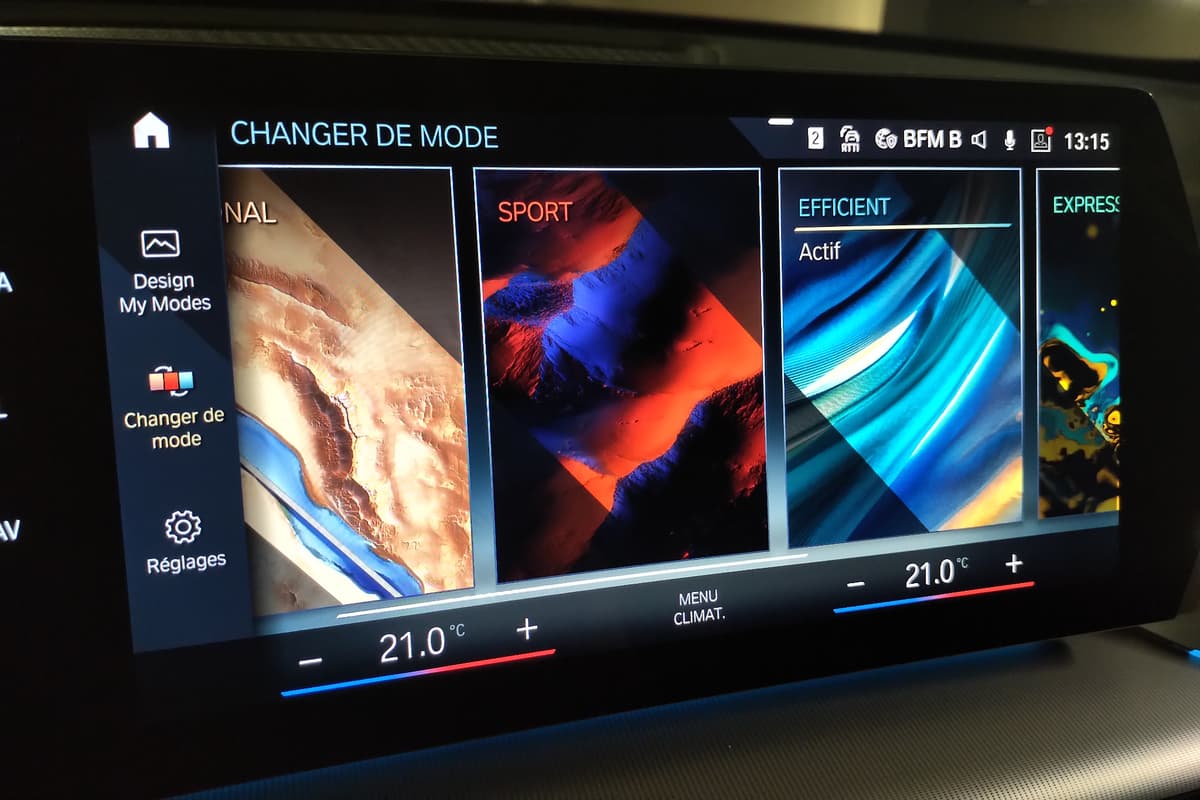 Efficient, Sporty, Relaxed, Expressive. Each mode will immerse you in a very specific lighting atmosphere, will activate certain options automatically (such as massaging seats), the sound signature will change subtly, going from simple rolling noise to something more elaborate, a kind of musical experience in motion, more or less intense inside the passenger compartment, with different options, all adjustable.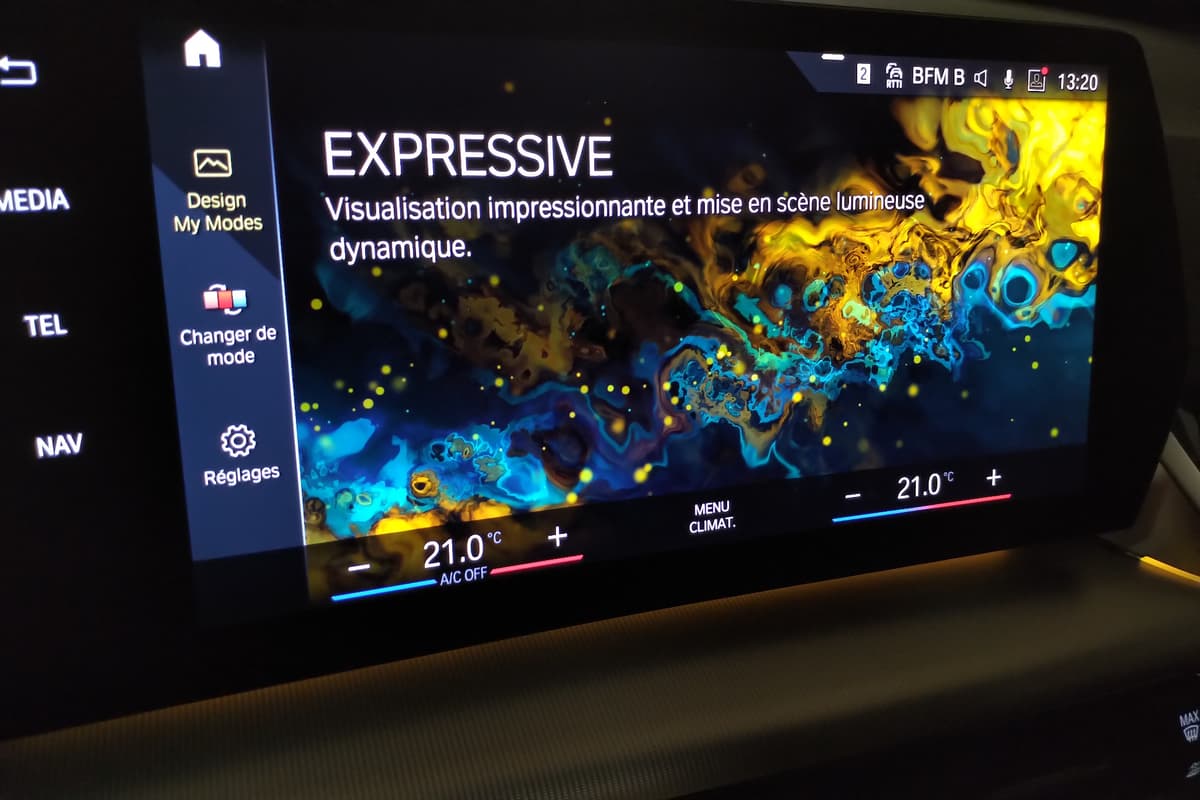 artistic ambitions
Finally, a special mode lets you drive your car inside a work of art. Indeed, the Chinese visual artist Cao Fei was chosen by BMW to create a digital work, "Quantum Garden", which becomes the centerpiece of a special mood mode called "Digital Art".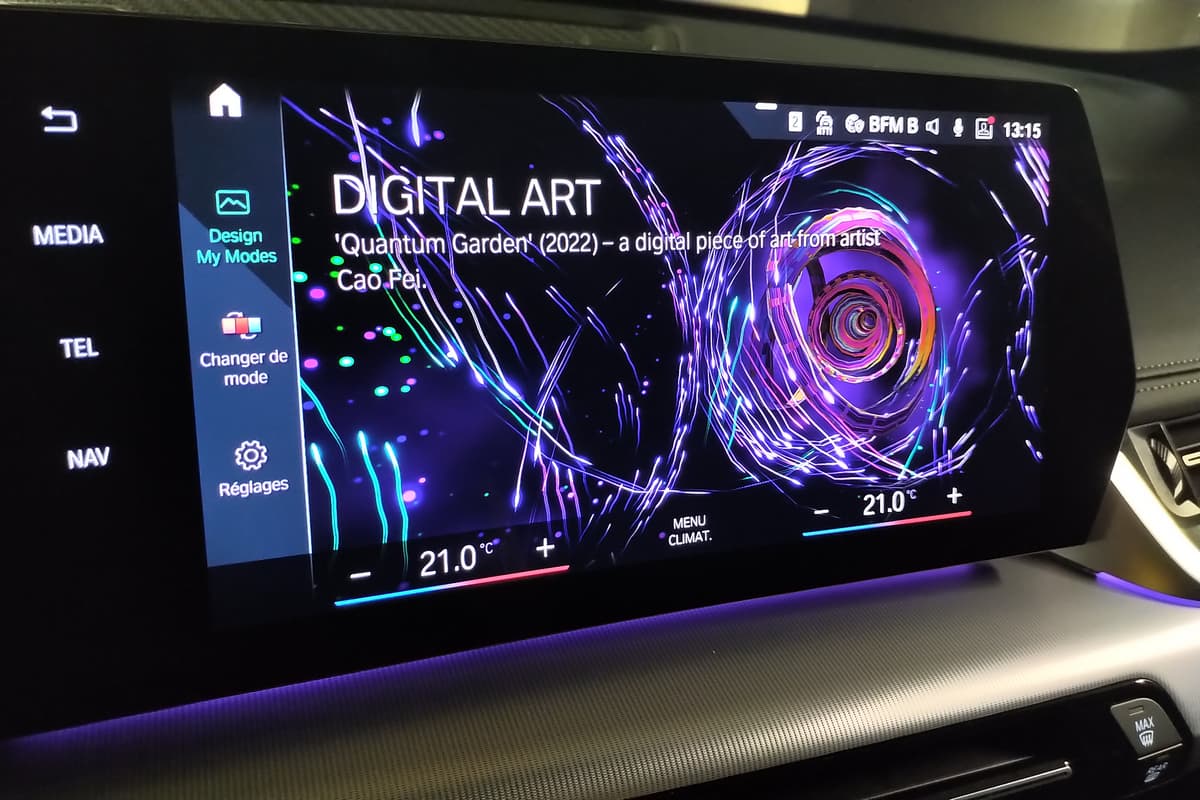 Also endowed with a specific sound signature, it immerses you, through the dashboard screens, the central screen and the interior lights, inside a multiple artistic experience, unique to say the least. his genre. And all these different universes are integrated into a sober interior, but of excellent quality in every detail, with even a return of some brushed metal elements.
A cocktail that therefore mixes art, work on sound, light and automotive technology with great subtlety, which gives a totally unexpected relief to a BMW iX1 which, without being a boring machine, remains all the same basically a big Premium electric SUV as we see many coming out at the moment.
We like it or we don't like it, a matter of taste, but we can't deny that BMW has a real desire to enrich the driving experience with something other than simple automotive technology, in order to sell the customer a concept that goes beyond the simple mobility solution. And in this, we can only salute the remarkable work and the ideas of the Bavarian manufacturer.