The order: form message of the sprint cannons. And that was exactly what Johanna Matintalo, Katri Lylynperä and Joni Mäki delivered in Ruka. It was not enough for the podium – but a good start to the season, states Matias Strandvall.
The World Cup on skis has started – and the classic sprint in Ruka immediately offered a message of blue and white.
After the prologue, expectations were highest for Krista Pärmäkoski, but instead it was Johanna Matintalo and Katri Lylynperä who impressed the most.
Matintalo and Lylynperä went all the way to the final, where only the top trio Maja Dahlqvist and Johanna Hagström from Sweden and Norwegian Maiken Caspersen Falla were stronger.
– We probably really did not expect this, Matintalo and Lylynperä say in unison in Yle's TV interview afterwards.
– But it feels fantastic. Our goal for the season was to raise the level explicitly in the sprint. And to explicitly have several ladies in the final. Succeeding at that already in the first competition feels incredibly good.
Joensuu also sharp, Pärmäkoski's investment cost her dearly
In addition to them, it was Jasmi Joensuu who offered the best form message from the Finnish ladies. Joensuu looked incredibly strong in the quarterfinals, but made it to the semifinals.
Pärmäkoski then? She had to give up already in the heat – after a furiously hard start together with Jessie Diggins (who also went out).
– We started so hard. Jessie just poured on and I could only think that she should not take it easy now? It was certainly the fastest heat until the last climb. There, the forces ran out completely. But I will save energy until tomorrow, says Pärmäkoski.
Mäki six – Terentjev today's star
On the men's side, it was Joni Mäki who was the best Finn in the qualifiers – and the Vasa skier stood up for the pressure.
Mäki went all the way to the final, where the very strong starting field proved to be too tough.
Strongest of all? Russian Alexander Terentjev. The Russian had several meters up to Johannes Hösflöt Kläbo when the riders arrived at the decisive last climb, but flew up past the Norwegian star.
– What a world star we have going on here, says expert commentator Matias Strandvall about the Russian talent's formal message.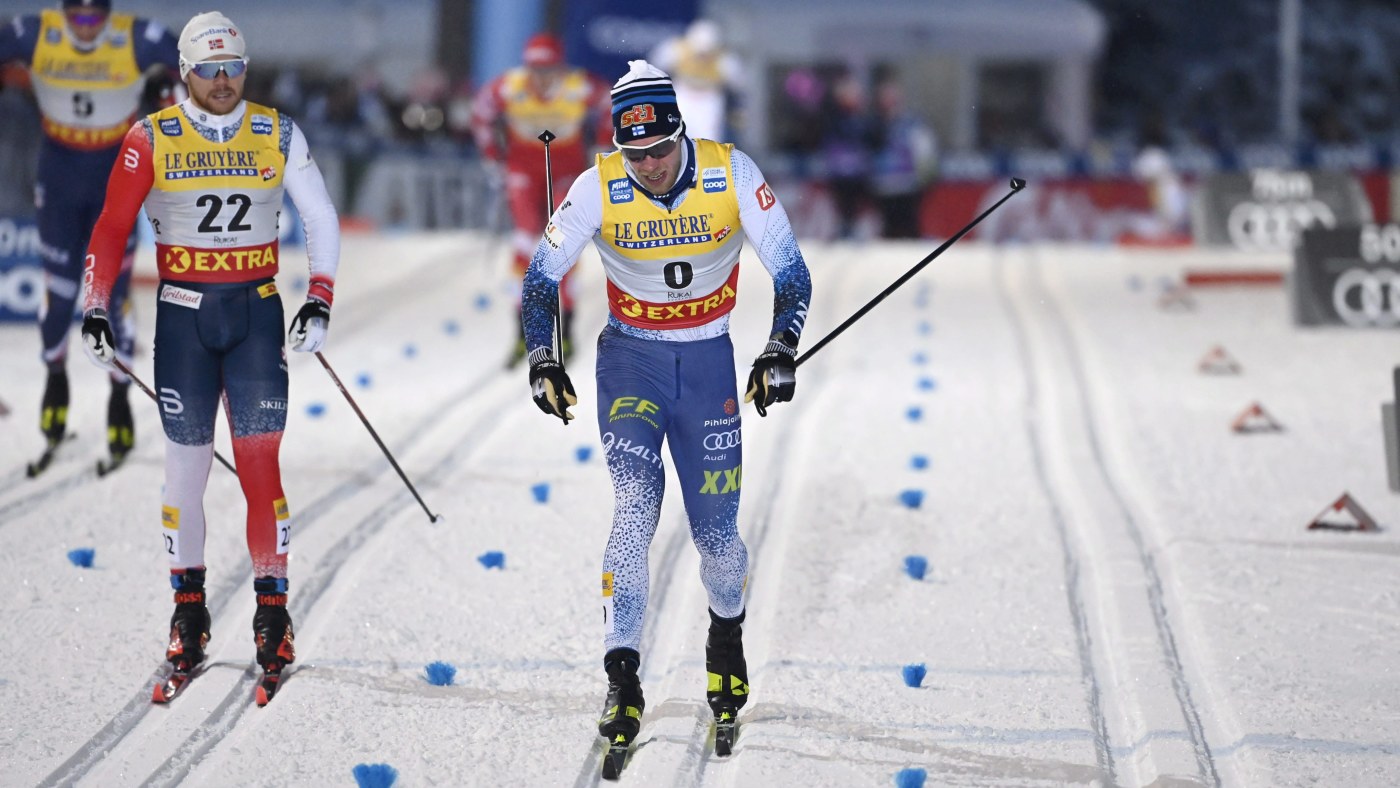 Mäki finished sixth.
– It is a good start to the season. There is time for the Olympics, Strandvall states.
Lauri Mannila, Juuso Haarala, Lauri Vuorinen, Verneri Suhonen, Niilo Moilanen and Ristomatti Hakola went out in the heat. Of them, it was "Rise" who did it in the most spectacular style when he crashed with the reigning sprint cup champion Federico Pellegrino.
– I do not know at all what happened. I touched him in some way. Hard to say anything about the shape. After the heavy summer and autumn, I also receive such modest results, says Hakola.
Sprint, (k), ladies
1. Maja Dahlqvist SWE 3.01.81
2. Johanna HagströmSWE +1.77
3. Maiken C. FallaNOR +2.02
Johanna Johanna MatintaloFIN +3.21
5. Katri Lylynperä FIN +3.74
6. Frida KarlssonSWE +3.97
———————————-
7. Natalia Neprjajeva RUS
8. Anamarija Lampic SLO
9. Jasmi Joensuu FIN
10. Julia Stupak RUS
———————————-
13. Krista Pärmäkoski FIN
23. Anne Kyllönen FIN
30. Maaret Pajunoja FIN
42. Anni Kainulainen FIN
43. Jasmin Kähärä FIN
45. Anni Alakoski FIN
Sprint (k), gentlemen
1. Aleksandr Terentjev RUS 2.31.90
2. Johannes Høsflot Klæbo NOR +1,18
3. Erik Valnes NOR +2.13
4. Richard Jouve FRA +3.01
5. Håvard S. Taugbøl NOR +4.72
6. Joni Mäki FIN +8.53
————————————
7. James Schoonmaker USA
8. Gleb Retivih RUS
9. Pål Golberg NOR
10. Marcus Grate SWE
———————————–
15. Lauri MannilaFIN
16. Lauri Vuorinen FIN
20. Verneri Suhonen FIN
21. Ristomatti HakolaFIN
22. Niilo Moilanen FIN
23. Juuso Haarala FIN