Ribl Rides: Rebecca Marte is self-employed as a mountain bike guide.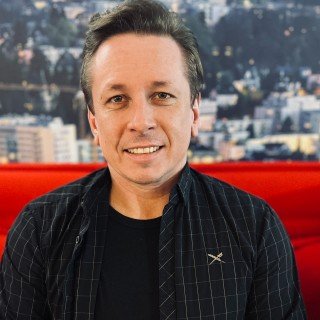 Independent and constant: As a MTB guide, Rebecca Marte (33) from Bludesch passes on her knowledge to enthusiastic children and young people.
With Ribl Rides, the woman from the Oberland fulfilled a long-cherished dream: she turned her hobby into a job and dared to take the step into self-employment. As a mountain bike guide, she shows downhill and enduro fans of all ages how to behave on the numerous trails in the local bike parks, currently in Brandnertal.
In the VOL.AT video interview, the likeable young entrepreneur talks about her challenging path to self-employment, her love for downhill sports, developments in the industry and why more and more women are enjoying fast-paced mountain sports.
"Safety comes first"
The extensive protective equipment testifies to the fact that the spectacular way of conquering the mountain on a mountain bike is also associated with dangers. "Helmet, protectors and safe cycling are basic requirements. And regardless of whether you are a student or a guide, anyone who is caught on a bike without a helmet, even if only in the parking lot, can try a few push-ups," informs the MTB entrepreneur.
Ribl Rides MTB guide Rebecca Marte
Her offer is aimed at all age groups, but she particularly enjoys working with children and young people. Weekly local training sessions for kids take place on the mountain under the title "Gravity Groms Bikepark Brandnertal". Her smallest downhiller is already on the bike at the age of four. And with special courses for girls, the supposedly weaker sex shows that this sport has a future, especially in our latitudes. Anyone interested in a taster course now has the opportunity to do so in the recently reopened Bikepark Brandnertal. Ribl Rides, Rebecca Marte's MTB startupis looking forward to numerous newcomers, bike pros and those who want to become one.